Friday 8th November / 3pm to 6pm at The Nightingale Theatre
3pm - 6pm with performances at 15:45, 16:30, 17:15
Psykick Dancehall
Frantically searching for something heard but never allowed to see

Drawing on their interest in Brighton-born Ann Quin's (1936-73) debut novel Berg, Psykick Dancehall will develop a new project at COOS. The novel tells how 'a man called Berg, who changed his name to Greb, came to a seaside town intending to kill his father'.
PDH will present a video-performance at the Nightingale Theatre, just over the road from the station, which festival-goers are invited to drop in and out of over the course of the afternoon. Doubles and dummies, automatons and imposters and, above all, errant voices and unhinged sound.
Immediately it became room-sized, sometimes a broken bellows whispering, squeezed out sound that became several people talking to themselves.
Psykick Dancehall are Hannah Ellul & Ben Knight. Over the past five years they have held exhibitions, performances, presentations, creative labs, residencies and talks in London, Edinburgh, Glasgow, Sheffield and Munich. Hannah and Ben play as Human Heads and used to be 2/3 of Helhesten.
The film will run on a loop between 3 and 6, and there will be performances by Human Heads & Stuart Arnot (of Acrid Lactations fame) at 3.45, 4.30 and 5.15.
Beer and pickled onions will be served from 3 so come early to avoid disappointment.
(Free Event).
Thanks to the Nightingale Theatre for their support in this residency
Psykick Dancehall Recordings
Friday 8th November / 5.30pm to 12.30am at The Old Market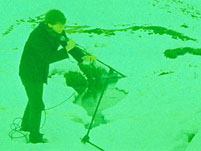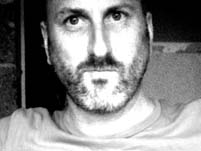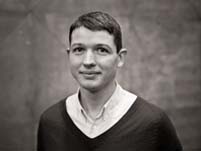 Richard Youngs & Neil Campbell & Luke Fowler Trio.
A collaborative performance featuring UK underground DIY- sound pioneers Richard Youngs and Neil Campbell with Turner nominated artist Luke Fowler.
Raised in Glasgow in the Eighties, Luke Fowler is an artist working with film, sound, installation and photography. His work explores the limits of documentary, crafting densely layered portraits of marginal or countercultural figures. Fowler's recent release with Youngs 'Yellow Gardens' - is described as 'gurgling, corrosive modular synth studies for the ontologically insecure'. Richard Youngs is of one of the UK's most prolific, versatile and consistently innovating musicians. 'Imagine Youngs as the junior member of a cabal of prolific and puritanical English musician-mystics, including The Fall's Mark E Smith, Van der Graaf Generator's Peter Hammill, Martin Carthy and The Clangers' composer Vernon Elliot, and still his nature will elude you' Stewart Lee. 'Neil Campbell is a one-man subculture. In 30 years of music-making in various configurations of improvised rock, psychedelia and electronics, he has released hundreds of hours of recordings, mainly in micro-editions of home-produced cassette, CD or mp3, and collaborated endlessly with a global network of musicians that have fallen through the cracks of genre or stylistic allegiance.' Joe Muggs / Wire
Jagjaguwar/Youngs
Sound and Music / Fowler
Astral Social Club
Alessandro Bosetti
Born in Milan, Italy in 1973, Bosetti is a composer and sound artist who uses the musicality of spoken words as a basis for abstract compositions, sound anthropology and acoustic collage. His work often includes translation and misunderstanding as part of its creative process - as in his 2005 release 'African Feedback' which documents the responses of West African villagers to recordings of avant garde composers. Bosetti's text-sound compositions have featured in live performances, radio broadcasts and recordings on a number of labels.
Alessandro Bosetti
Bandcamp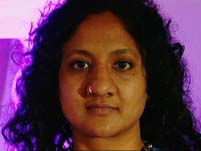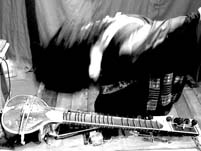 Poulomi Desai
Poulomi Desai is a self taught multi-media artist, best known for her large-scale sound and photography installations that interrogate the politics of identity, listening and perception. Inspired by her post-punk theatre background, her tools are image-based, textual, performative and acoustic, traversing boundaries of physical location and structures of presentation. Her current pre-occupation investigates sacrilegious sound and vision through the machinations of her prepared, modified sitar, electronics and slide projections, performing on the noise and free improv scenes. Commissions and exhibitions include, The Serpentine Gallery, The Photographers Gallery, The Science Museum, INIVA, The Queens Museum (USA), The Oxford Gallery (India), Futuresonic UK and Souzouzukan 9001 Japan. She runs the Usurp Art Gallery and studios, an experimental tactical media artist-led space where she has curated over 80 exhibitions and events. "Her irreverent aim is to shatter the contours of these fixed notions of sexual, national, cultural, personal, political and diasporic identities" - Professor Stuart Hall "Different" Pub. Phaidon.
Poulomi Desai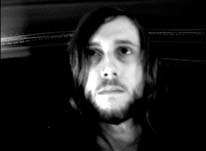 Kiko C. Esseiva & Vincent de Roguin
A collaboration between two premiere Swiss electroacoustic composers. Esseiva is a young composer with Swiss and Spanish roots who who lives and works in Lausanne. He creates sound pieces that are not unlike those of the French master of the genre Luc Ferrari - warm, non-academic and colourful. His music creates diversified atmospheres which combine acoustic instruments, noise, human voices, field recordings and static sheets of sound with a stunning freshness and musicality. Live shows can include adventurous installations of speakers in different sizes and qualities, each uniquely controlled by Esseiva. De Roguin is a composer, writer and artist based in Geneva. His sound work has been commissioned for radio, film and theatre and incorporates elements of musique concrète and modern classical composition. De Roguin is a founding member of Æthenor and has recently presented pieces for girl choir, theatre organ and symphonic orchestra.
Kiko C. Esseiva
Vincent de Roguin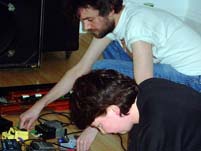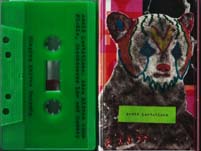 Acrid Lactations
A Glasgow based duo of primitivist improvisers Susan Fitzpatrick and Stuart Arnot. With no fixed instrumentation or approach, they use musical/non-musical, acoustic/electronic, live/pre-recorded sounds in a psychedelic stramash of noise, free-jazz, concrète, sound poetry and confusion, hanging onto the wet end of the Group Ongaku/Nihilist Spasm Band/LAFMS/A Band/Prick Decay continuum. Expect tonal sketches from the subterranean to the extra terrestrial.
Acrid Lactations
Skin Graft
'If you haven't heard of Skin Graft, you must be living under a harsh noise rock…but that's okay, because Cleveland's Wyatt Howland intends to use that rock to repeatedly crank open your skull. Teeth-clenching, pulverising static build up, wretchedly distorted, ugly black psychedelic, blown-apart sandpaper drones that push ever deeper into explorations of entropic noise. Picture yourself in the drivers seat as your car wraps itself around a telephone poll…yeaa! You'll feel bad but all the better for it' Compulsion
Skin Graft Soundcloud
Enzo Minarelli
Minarelli has been working in multiple artforms since the 70s most prominently in the field of linear and visual poetry. His works have been commissioned for TV and theatre, released on numerous labels and acquired for the collections of museum, libraries and archives worldwide. He's the founder of Polypoetry - an attempt to theorise the performance of sound using such factors as time, editing, rhythm and the advancement of technology.Minarelli runs 3ViTre Records, a vinyl only series of recordings.
Enzo Minarelli
Kenny Millions & Rat Bastard
Second-generation Ukrainian-American creative improvising saxophonist Kenny Millions was born Kenneth Keshavan Maslak in Detroit, MI, in 1947, and grew up in one of the ethnic neighborhoods that surround the inner city. His Ukrainian grandfather played music reflective of his Slavic folk heritage, and upon listening to the jazz and rhythm & blues players in Detroit such as Yusef Lateef and Junior Walker, he distilled these elements into his own style. He studied at the legendary Cass Tech High School, a spawning ground for many of the best modern players who emerged from the scene and headed for New York City where he worked with the likes of Ornette Coleman, Sam Rivers and Sunny Murray. After extensive European collaborations and some Dutch living he changed his stage name to Kenny Millions, and formed an electric free jazz ensemble with Charles and Charnett Moffett. 'Known for his stage theatrics, playing saxophone on his back, utilizing overblowing techniques on a variety of woodwind instruments, exploiting comedic devices, and interpreting standards in a most unconventional manner…Maslak hates predictability, so always hopes that a live performance won't reflect any of his album work….' Village Voice. Kenny Millions will be also be performing on the streets of Brighton throughout the weekend. A founding member of 'To Live and Shave in LA,' Rat Bastard has been bursting eardrums and causing structural damage to low rent basement dives for decades, most recently with his sprawling 'International Noise Conference', which touts: 'No droning, no mixing boards, no laptops.' He's been playing improvised noise on guitar, bass and electric violin in Miami's Churchill's Bar pretty much every Thursday night since 1983. As legend has it, a patron riled with Rat's incessant rumble stormed the stage and put a gun to his head. 'Go ahead and pull the trigger,' Rat told him, 'cause I ain't stopping.'
Kenny Millions
Rat Bastard
Dog Lady Island
'A newfound and terrifying concern for real things. Mike Collino is Michigan based Dog Lady Island - a musician working with violin and modified electronics. His new works are subtractive, vestigial - a staggering all-nighter in which the footfall of the metronome is never rectified'. Infinite Limits. Collino has releases on American Tapes, Fag Tapes, Trilogy and Chocolate Monk - you may also know him as Cannibal Scab and Gamble Gore. Dog Lady was the organiser of 'Guerrilla SkatePark' in Detroit, whereby abandoned buildings would be transformed into makeshift venues for boarding and live music.
Dog Lady Island
Acchiappashpirt
Acchiappashpirt is a a collaboration between the Albanian poet Jonida Prifti and sound artist SDT – a sonorous poetry project formed in 2008. 'Poetry pilots the sound through wirings and feedbacks and so turns it into poetry itself. Their concept is inspired by the ouija board, which is oral communication as a path to paranormal activities that passes through the linguistic Babel, used to free the sense.' Archive Org
Acchiappashpirt
Woven Skull
Since 2008 the core trio that makes up Woven Skull have been gathering together in the bogs and forests of County Leitrim, a remote area in the north west of Ireland known for its tales of ghosts, 'tree folk' and under water creatures, to create engulfing, raw primal drones and self imagined ethnic music. They're joined by Jorge Boehringer, a US artist now based in Prague, who studied composition under Fred Frith, Pauline Oliveiros and Alvin Curran, played with bluegrass noisers Caroliner, currently forging massive minimalist pattern music as 'Core of the Coalman' with viola and circuitry.
Woven Skull
Occult Hand
An augmentation of nocturnal emissions seeping out of Sussex like a ritualistic study of religions long since passed into the realm of fetish, it was as if an occult hand had pointed them out to each other from the sky and brought forth daring jewels down the belted ear system. Welcome to the offshoots of Jupiter. Isa Brooks and Henry Holmes are Occult Hands, two Brighton based, black robed horror movie obsessives, whose ectoplasm drenched music incorporates elements of noise, found sound and tremulous organ.
Occult Hand
Primate Arena
Hosted by Eran Sachs and Alex DROOL, Primate Arena is a bi-weekly freeform event in Tel Aviv, dedicated to Psych, EAI, Noise, Speech/Sonic/Concrete Poetry, Avant Rock, post millennial obscurities, pre millennial obscurities, the history of 20th century experimental music & other adventurous ventures. Over the past three years they have created a platform - central to Tel Aviv's now vibrant, thriving scene - that has nurtured a community of local musicians including Maya Dunietz and Yoni Silver. (details to follow)
Primate Arena
---
Saturday 9th November 10am - 12.30pm
At the Vinatge Saxophone Workshop (£5)
Rick Potts - How to Make Sounds With Things Found Around the Home
(that will Annoy & Amuse Your Friends)
For full details see Workshops
Saturday 12 Midday at Oxfam / Western Rd
Gen Ken Montgomery - The Infinite Loop / 8-Track Magic Live
An instoor performance from Gen Ken, New York's all round champion, promotor and creator of the finest DIY sound art. 'In 1994 I saw a dilapidated Led Zeppelin IV 8 Track cartridge caked in mud in a box under a table of cassettes at a yard sale where cassettes were selling for 10¢ and 8-Tracks were 25¢. When I got home I shoved it in my 8-Track player and what came through the speakers was magic. (http://generatorsoundart.org/GL-02.html.) Since then I have been randomly searching and playing old beat up 8-Tracks hoping to be struck again by the same Magic. I will attempt to find that Magic again at Colour Out Of Space using this gloriously fun, sexy, unstable tape medium created for the Space Age.' (Free Event)
Gen Ken Montgomery
Saturday 1.30 - 3.30pm at the Sallis Benney Theatre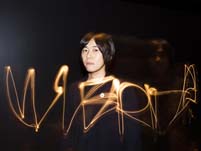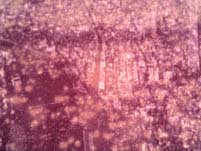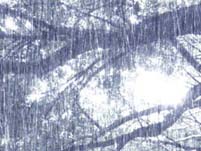 Makino Takashi: Space Noise / Film Performance
Born in 1978, Takashi is at the forefront of a new generation of Japanese experimental film-makers. He began by working with Super-8 as a student at Nihon University and apprenticed under the Quay Brothers in London 2001. Takashi treats image and sound as elements of equal importance - working live with both 16mm and digital he merges immersive, layered abstract imagery with live sound collage. He has won awards at film festivals throughout the world. 'Words feel woefully inadequate to describe Makino's practice, where the abstract is drawn out of the real through the layering of images, flickers of light and the perpetual movement of dots and grains. Screen space is redefined with a flattened image surface that engulfs our peripheral vision and feels deeper the closer we focus our eyes. Makino's own sound collages, not only accompany his visual cacophony but interweave to concoct a breathtaking audiovisual experience of transcendent measures.' ICA
Makino Takashi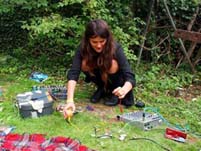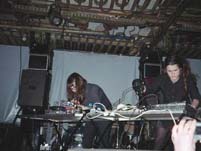 Ewa Justka & Lorah Pierre
Lorah Pierre is an artist whose practice explores the nature of 'event' through live working collaborations in physical and virtual spaces. Projects focus on experimentation across a number of disciplines - the recycling of materials, self-built hardware, hacking and bending, along with a DIY ethos allowing interactive installations and performances to develop out of temporal space. She has collaborated with scientists, performers and musicians. Pierre is the founder and curator of The Experimental Sounding Board, a live platform for collaboration between sonic and visual modes of improvisation.
Ewa Justka uses DIY sensors, pulsing, desynchronized lights, fire – everything which is a source of glare and builds cacophonic rhythms. The construction of live performance is based on oppositions – light/dark, sound/silence. Ewa is a Polish electronic artist based in London, her current preoccupations mostly concern the possible inter-relationship between light/sound and an acoustic instrument (accordion)/electronic devices.
Lorah Pierre
Ewa Justka
Saturday 4pm - 5.30pm at St Andrew's Church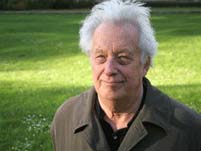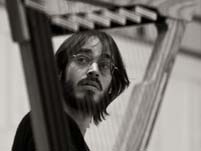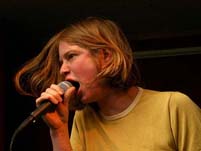 Dieter Schnebel in conversation with Ilan Volkov
Liebe - Leid. For woman's voice and piano. World Premiere. A new work written by Dieter Schnebel for Maya Dunietz
Visibile Music. For 1 conductor and 1 instrumentalist. Performed by Maya Dunietz & Ilan Volkov
Bagatellen for Piano. Performed by Maya Dunietz
A Hommage to Maulwerke. Performed by Maya Dunietz and Dylan Nyoukis

The composer, theologian, teacher and musicologist Dieter Schnebel was born in 1930, in Lahr/Baden, Germany. Schnebel is among the most innovative and influential avant-garde composers of the second half of the 20th century.From the early 1950s his compositions had already explored open sound processes between tone and noise, and strove to use space in new ways. He composed many influential conceptual pieces from the 1960s to 1980s, and his sound and language compositions from the 1950s to 1980s pioneered a new treatment of vocal articulation and mute physical gesture as music theater. At the same time Schnebel has always been an innovator linked with tradition - he draws on historical forms to rediscover, reveal, expose, re-compose and further extend musical tools both traditional and new. Schnebel's large-scale late works from the 1990s onward bear witness to his continuing effort to set out all-embracing testaments to his musical language and music-theological world view.
Dieter Schnebel
Ilan Volkov
As chief conductor of the Iceland Symphony Orchestra and Principal Guest Conductor of the BBC Scottish Symphony Orchestra, Volkov is a significant presence in the mainstream classical world. Yet as an improvising musician and founder of the Tectonics festival he is also deeply immersed in more avant garde currents. Last year Volkov presided over the Proms centenary tribute to John Cage, while his own Tectonics, held in Reykjavík and Glasgow (and next year Australia), aims to explore the hinterland between experimental and orchestral music. Each reflects Volkov's determination to cross musical genres and keep alive the creative spirit and sense of artistic adventure that shaped modernist compositions of the last century.
Ilan Volkov
Maya Dunietz
Maya Dunietz, born in 1981, is a composer, pianist and sound installation artist. Her work ranges between solo performances, composing for ensembles around the world, writing for theatre, creating sound installations, building electronic instruments, playing and singing. Dunietz founded the experimental vocal ensemble "Givol Choir" and is a member of the Israeli band "Habiluim". Among her recent works: Sound installations for the LunaPark and for Ausland in Berlin and for Tectonics festival in Iceland, a solo performance for the 2011 Venice arts Biennale (Swiss Pavilion), musical director of the concerts and notation project of composer Emahoy Tsegue-Mariam Guebrou (with JSOC) including arrangements for string-orchestra. Her recent compositions include "Olive Tree" (2011) - for ensemble and electronics - commissioned by Hyperion Ensemble, premiered at George Enescu International Festival in Bucharest, "Six Waves" (2013) - for quintet and electronics - commissioned by Meitar Ensemble, premiered at Shtricker Conservatory Hall in Tel Aviv, and "Hegel Psalm" (2013) - for ensemble and choir, premiered at the HAU Theater, Berlin. Dunietz also performs regularly around the world playing free improvisation and has played with numerous artists such as John Butcher, Zeena Parkins, Ghedaliah Tazartes, David Moss and Steve noble, to name a few.
Maya Dunietz
Dylan Nyoukis
'Nyoukis's work exists on the fringe of contemporary avant garde art and underground DIY insurrection. As a leading light in the UK's tape/CD-R scene, Nyoukis has long functioned as a rallying point for artists working to clear a space for original, non-idiomatic sound and feral performance modes. Alongside his sister and long-term collaborator Lisa (Dora Doll), he founded the Chocolate Monk label in 1993, an early experimental music imprint that combined hi-jacks of outmoded media - cassette, CD-R, pen and paper - with cutting edge investigations of the limits of form, while functioning as a home for Nyoukis's own projects, Prick Decay, Decaer Pinga, Ceylon Mange, Blood Stereo and countless one-off collaborations. His current group, Blood Stereo, is a duo with his wife, the musician and artist Karen Constance' David Keenan.
Dylan Nyoukis
Saturday 5.30pm - 12.30am at The Old Market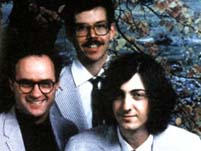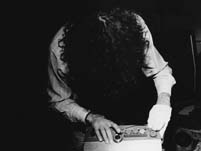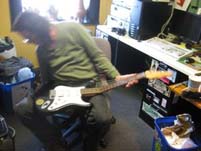 Dinosaurs with Horns
Dinosaurs with Horns are Joseph Hammer and Rick Potts - key members of the LA Free Music Society – an amorphous free wheeling 70's collective of unaligned improvisers, non musicians, instrument builders, proto punks, radical hippies and vinyl obsessives who pretty much set the blueprint for all DIY free music collectives to follow. Their debut cassette offers up 'disjunctively loping loops of consumer culture detritus wheeling around the blearily surreal tonalities of Hammer's signature Optigan, while pitch perfect deployments of sound byte kitsch often provide the through-line…its beyond essential'
Rick Potts formed the L.A.F.M.S in 1975 and become a player in most of its central bands creating sideways, eccentric rhythms topped with doctored thrift store vinyl, and performing with custom hinge-neck guitars, musical saws, electronics, trays of sound emitting toys, synths and samplers. His idiosyncratic methodology produces sounds which are unique, enigmatic, alarming and funny. Joseph Hammer has been creating experimental sounds in Los Angeles for over 30 years using the tape loop as his main creative source. His first major project, Points of Friction aimed to generate a transportation environment via unidentifiable sounds fused with abstract visual projections. Hammer has continued on this road - sporting a customary white glove he blurs the boundaries between digital and analogue, his live 'phonomontages' using computerized sources and magnetic tape abstracted by hand and razor blades.
Hammer cites his primary influences as simultaneous AM radio stations and an episode of the 70s sci-fi Land of the Giants, in which astronauts use tape loops to thwart alien tyrants.
Dinosaurs With Horns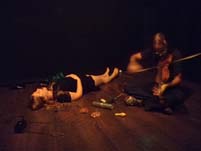 Lovers Ritual
An improvisation from Maya Dunietz & Ilan Volkov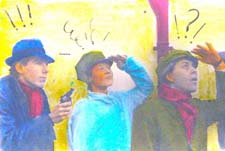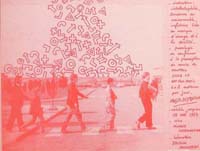 DDAA (Déficit Des Années Antérieures)
DDAA are Sylvie Martineau, Jean-Philippe Fee, and Jean-Luc Andre, pioneers since 1977 of an incredible French sonic weirdness. As self taught musicians with few noticeable influences, their music moves freely through different soundscapes, using improvisation and collage to deconstruct songs and craft strange, extraordinary sounds. An interest in traditional ethnic music alongside a capacity for imaginary travel through time and space, resulted in 'Adventures in Africa' in 1981 and 'Action & Japanese Demonstration' the following year - each complete with hand-painted covers and elaborate packaging and inserts. Auditory journeys to the Russia of the Tsars and the French poets of the 16th century would follow, before arriving at Maracayace - a de-territorialisation zone of their own. After 30 years DDAA continue to forge their creative visions.
DDAA
Andy Guhl
Guhl is an improviser, architect and one of the original pioneers of audio-video hacking and circuit bending - without doubt one of the most influential artists in audio-video experimentation of the last 30 years. Together with Norbert Möslang, Guhl formed the pioneering electronic free improvisation group 'Voice Crack' in 1972. Initially a free jazz project the duo soon began to incorporate pre-recorded tape effects and live sound processing, eventually eliminated any conventional instrumentation in favour of what they called 'cracked everyday electronics' - objects such as radios, turntables, transmitters and dictating machines, cracked open and manipulated to produce 'new sounds using magnetic and radio waves in a complex system controlled by movements of hands and light.'
After Voice Crack disbanded in 2002, Guhl continued his experiments in audio/visual technique primarily in installation and performance.
Since 1976 Andy Guhl collaborated with musicians and artists like 8gg, Oren Ambarchi, Simon Berz, Mike T. Bullock, Borbetomagus, Markus Detmer, Oliver Dolder, Richard Jean, Yan Jun, Mario Gabola, Bertrand Gauguet, Charlotte Hug, Günter Müller, Keith Row, Christian Marclay, Phil Minton, Eric M, Norbert Möslang, Lionel Marchetti, Sachiko M., Frederick Quennoz, Timo Reuber, Jim O Rourke, John Tilbury, Frederick Quennoz, Phillip Samartzis, Christian Weber, Otome Yoshihide, Carlos Zingaro.
His Recordings appeared on the Labels FMP-Records, Uhlang, Urtona, Vexer, Dexterscigar, For4ears, fals, erstwhile, Sonoris, audiosphere, sirr.
Andy Guhl
Bridget Hayden
'Bridget Hayden's music is equal parts scuzz, drift, echo, and dream. She started in the late '90's as part of the Leeds-based psychdrone quintet Vibracathedral Orchestra. Since then, she has released four solo records in addition to collaborations with Melanie Delaney and Stephen Lawrie of The Telescopes. Her most widely-available solo release to date, 'A Siren Blares In An Indifferent Ocean', was released in 2011 - truly sounds to get lost in and lost to - self-assured, deeply focused, and blisteringly, quietly emotive. Bridget's latest record, 'Exquisite Falling Dust,' is an equally enveloping study in stasis, outsider abandon, and hard beauty. The music is vast, filled with tiny elements of ambient, voice, drone, blues, and tidal unease.' Blackdeadsea
Bridget Hayden
Jennifer Walshe & Tomomi Adachi
Each week over the past year, synchronising start and end times from Berlin and London, Walshe and Adachi have telepathically listen to one another and improvised. For COOS they're here in person.
Jennifer Walshe is a composer, performer, visual and conceptual artist who was born in Dublin. Her music has been commissioned, broadcast and performed worldwide. Walshe's theatrical works include 'XXX_LIVE_NUDE_GIRLS!!!' a dark, biting satirical opera featuring a cast of Barbie dolls, and, most recently, 'Die Taktik' - a commission for the Junge Oper Stuttgart. She frequently performs as a vocalist, specialising in extended techniques and her many international projects include Ma La Pert with Tony Conrad. 'The most original compositional voice to emerge from Ireland in the past 20 years' (The Irish Times). Tomomi Adachi is a performer, composer, sound poet, installation artist and occasional theatre director who was born in Kanazawa, Japan in 1972. He plays improvised music with voice, live electronics and self-made instruments, and has composed site-specific symphonies for urban environments, assimilating the sound of motorbikes, fish markets and street life into his compositions. As the only Japanese performer of sound poetry, Adachi performed Kurt Schwitters' longform soundpoem 'Ursonate' at its Japanese premiere in 1996.
Milker Corporation
Tomomi Adachi
Andie Brown & Sharon Gal
Andie Brown and Sharon Gal are musicians based in London. Brown began playing music as a bass guitarist at the age of 13, joining post-rock experimentalists Cindytalk in her late teens. An interest in sound beyond convention composition led her to begin work as These Feathers Have Plumes in 2007, creating sonic landscapes that use non-traditional instrumentation - primarily glass. Gal is a London based cross-disciplinary artist, performer and musician. Her practice includes vocal and electronics free improvisation, collaborative group & site specific performances, field recordings and radio broadcast. She performs solo, and in regular collaborations with Steve Beresford, Steve Noble, Alex Ward, John Edwards, Dylan Nyoukis, Phil Minton & Feral Singers. Gal has instigated a series of group compositions; 'L'Esprit D'Escalier' – a performance for voices in a staircase, 'Toy Orchestra' – for children and adults, and 'Gals with Guitars' – a performance en masse for female guitar players. She is a founder member of London's arts radio, Resonance 104.4 FM.
Andie Brown
Sharon Gal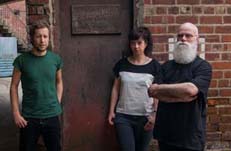 Roman Nose
Roman Nose brings together three wildly different Yorkshire-based musicians; Jon Marshall is founder of The Hunter Gracchus and Singing Knives Records, and uses vocals, various free-reed instruments and an array of pitch/timbre modifying effects pedals. Charlie Collins is an early member of Clock DVA and one of a handful of musicians to have played on both Derek Bailey's 'Company Week' and Top of the Pops. More recently his highly-developed brand of free-rhythmic percussion has seen collaborations with US jazz legends Sonny Simmons and Ted Daniel. Sarah McWatt is a flautist, vocalist and accordionist whose creative exploits span from the Satie/Mingus-inspired McWatt to the sludge metal of Like A Kind of Matador. Together they channel a unique microtonal and polyrhythmic fever of ecstatic dissonances and dense improvisatory ethno-flux.
Roman Nose
Sindre Bjerga
Sindre Bjerga has been touring Europe, Russia, Ukraine, Japan and Argentina for many years and his incredible long form isolationist and cavernous tape-drone meditation have been released on more than 150 records across the underground spectrum. He's collaborated with many artists, like Anla Courtis, Lasse Marhaug, Robert Horton, Culver, Posset and countless others. "What remains consistent from one release to the next is a sense of personality. Whatever sub-sub-sub genre he happens to be working in – space-drone, gurglecore, dictaphonics, others of his own devising – he imbues it with an engaging, informing intelligence. Playful, unafraid to meander, yet always attentive, thought through and sharp when it needs to be." - Rob Hayler
SIndre Bjerga
Dan Melchior
Dan Melchior is a singer, songwriter and guitarist who grew up in Shepperton, Middlesex. He has appeared on over 30 recordings from early collaborations with Billy Childish and Holly Golightly to solo projects such as Dan Melchior's Broke Revue and Dan Melchior und das Menace. Never really fitting into the categories he has often been assigned, the last couple of years have seen releases on on Siltbreeze, Kye and Chocolate Monk - each marking a radical shift in his working methods with elements of chance, English absurdism and raw sound adding to his touchstone D.I.Y approach to old blues and rock and roll. He has been a permanent resident in the USA for the last 12 years - settling first in Manhattan with his wife Letha Rodman, and more recently re-locating to Durham, North Carolina. For COOS he will be joined by Russell Walker (Pheromoans, Bomber Jackets, and collaborator with Melchior in the Lloyd Pack) on vocals, for part of this performance.
Dan Melchior
Greg Kelley & Dylan Nyoukis
Gregg Kelly is based in Massachusetts where he began playing the trumpet at the age of 10. After his studies he quickly insinuated himself into local avant-garde circles and soon commenced a period of intense travel and collaboration which took him throughout North America, Europe, Japan, Argentina & Mexico, and performances in numerous festivals, clubs, outdoors, living rooms, in a bank, and at least once on a vibrating floor. He has appeared on over 80 recordings and played with such artists as Jandek, Keiji Haino, Anthony Braxton, Pauline Oliveros, Joe McPhee and Lionel Marchetti. Kelley constantly seeks to push the boundaries of the trumpet and of music itself.
Greg Kelley
Chocolate Monk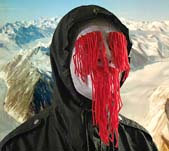 M.Stactor
One of many aliases adopted by W.A.Davison, a Toronto-based multidisciplinary artist who has been producing various forms of largely Dada/Surrealist-inspired art and otherworldly sonics for over 30 years. In this time he's unwaveringly pursued interests in aleatoric music and automatic creative processes, his performances often stemming from specific environments, making use of audience response, accidents and found props. His projects include Songs of the New Erotics, Th W rbl r, Urban Refuse Group, and Six Heads. Davison has collaborated with members of CCMC, Nihilist Spasm Band, AMM and Nurse With Wound.
M.Stactor
The Y Bend
Stewart Greenwood founded the Y Bend in 2011 after a background in fine art and almost twenty years of making abstract, difficult and no-mind sounds with the A Band. For their Colour Out Of Space performance he is joined by guitarist Dr Neil Lent (the A-Band and Skronk!), vocalist Simon Morris (Ceramic Hobs, Smell & Quim) and former child prodigy, multi-instrumentalist Sean Cartwright. The line-up is completed by psych-improv-dronesters Dr Karl Waugh and Chloe Wallace of The Zero Map. Expect a hive mind dredging spaced-out scrapes, silences, asyndesis, and spiritual derailments from the parallel dimensions.
Gwilly Edmondez & Posset & THF Drenching
Gwilly Edmondez began making voice recordings to dictaphone in 1990 when he was in France, discovering that spending a lot of time alone and unable to speak the language was perfect for automatic singing and improvised elaborations around fixed, remembered choruses. His performances are unfettered free association - instant compositions that aim to resist coherence and continuity. The dictaphone has been central to his work ever since - as a means of recording in unlikely circumstances and as a way of manipulating sound in performance. Edmondez runs the record label Kakutopia and manages the internet archive-label, Felt Beak. + Posset is longtime Newcastle-based improvisor Joe Murray, 'Posset weaves intricate tales in lurid tape, recounted in swatches of multi-sonic flaws, a deeply resonant harmoniousness which answers the surfaces of second nature while guzzling minerals in the first.' GE + THF Drenching is a free improvisor and composer of musique concrète, based in Manchester, he was one fifth of Derek Bailey's final band Limescale.
Gwilly Edmondez
The Council of Drent
---
Sunday 10th November 10am - 12.30pm
at the Vintage Saxophone Workshop / £5
Twiddling Waves: Andy Guhl - Cracked Everyday Electronics Workshop
For full details see Workshops
Sunday 12pm - 2pm at the Sallis Benney Theatre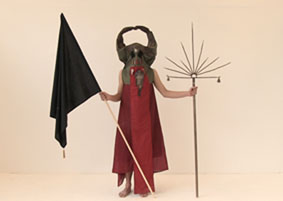 Open Colour / New Experiments in Film
Poulomi Desai / Lorenzo Gattorna / Timothy Shortell & Graham Lambkin / Christine Lucy Latimer / Lily & Honglei / Margaret Rorison / Tom White / Patrick Goddard / Sulaiman Majali / Jorge Mena / Ian Helliwell / Scout Foust / Toby Tatum / / Bonnie Begusch / Anja Dornieden & Juan David Gonzalez Monroy / Martha Jurksaitis / Tom Varley / Daniela Wayllace / Anno Bergmann. Here
Sunday 2pm - 3pm at the Sallis Benney Theatre
The Wire presents: The music is free, but you have to pay for the plastic, paper, ink, glue and stamps: LAFMS and beyond: Rick Potts and Joseph Hammer talk to Derek Walmsley
Joseph Hammer and Rick Potts were key members of the LA Free Music Society – an amorphous free wheeling 70's collective of unaligned improvisers, non musicians, instrument builders, proto punks, radical hippies and vinyl obsessives who pretty much set the blueprint for all DIY free music collectives to follow. Potts and Hammer played a role in many of its central bands including Solid Eye, Points of Friction, Steaming Coils and last nights Dinosaurs With Horns. All will be revealed. Derek Walmsley, deputy editor of The Wire - the UK's leading magazine of non-mainstream music, will lead the discussion.
Wire
Sunday 4pm - 5.30pm at St Andrew's Church
CM von Hausswolff & Michael Esposito
A master of minimalism in both his visual and sound-art, Hausswolff has worked as a composer, curator and conceptual artist. His main tools are recording devices (camera, tape deck, radar, sonar) used in an ongoing investigation of electricity, frequency, architectural space and paranormal electronic interference. He is an expert in the work of Friedrich Jürgenson, a researcher who claimed to have detected voices of the dead hidden in radio static (EVP). Hausswolff's own sound works are pure, intuitive studies of electricity, frequency and tone. In the 80's, he formed the Radium label.
Michael Esposito was born 1964 in Gary, Indiana. He is an experimental artist and researcher in Electronic Voice Phenomena (EVP). Over the years, under the Phantom Airwaves institution, Esposito has participated in hundreds of paranormal investigations throughout the world, conducting extensive research at many active locations. Working with EVP's relationship to experimental music, Esposito's releases and performances combines EVP, field recording and related frequency tones. He is currently published by Touch Music.
Hausswolff and Esposito will arrive pre-festival to make site specific recordings in Brighton.
CM Hausswolff
Michael Esposito
Hans Clavin & G.J. de Rook
Clavin was born in 1946 and is the Netherlands's most renowned visual poet. His extensive body of work is devoted to a continuous and wide-ranging experimentation of the word, using text, collage and sound. His projects have deconstructing the language of commerce and advertising, and he's formulated intricate, beautiful tables of visual poetry. In 2008 the Fondazione Berardelli in Brescia presented an overview of his work.
G.J. de Rook was active in the Netherland's Fluxus inspired, independent art scene of the Seventies, working in the fields of visual poetry, sound art, artists' books and mail art, before disappearing from the scene in 1977. He re-emerge nearly thirty years later for a series of one-man shows and performances in The Hague, Amsterdam and Berlin, and a residency in Xiamen (China).
Hans Clavin
GJ De Rook
Sunday 6pm - 11.30pm at The Old Market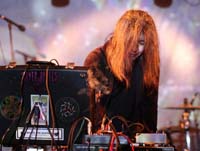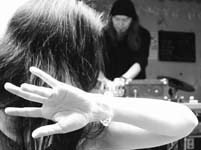 Hiroshi Hasegawa & Reiko.A
Born in 1963, Hasegawa began working with freeform voice and drums before founding the legendary Japanese mass-noise outfit CCCC (Cosmic Coincidence Control Center). Far from aggression, CCCC regarded their dense, very loud, highly charged walls of sound and volatile performances as a process of catharsis for both band and audience. Hasegawa launched his solo project 'Astro' in the early 1990s initially focusing on analogue synthesizers, later ring modulators and field recordings to amass a psychedelic space music that is like 'drifting between meditation and awakening state with electronics'. Hasegawa has appearing on over fifty releases and continues to work prolifically in collaborations worldwide. Reiko A is a writer and performance artist who lives and works in Tokyo. From 1989 to 1999 she was a member of Masami Akita's uncompromising and internationally celebrated power electronics outfit Merzbow, performing live with electronics and voice. Her interests now lay in dance, poetry, vocal performance, Theremin and electronic music. She collaborates with many artists most notably Sumihisa Arima as part of the duo Venus in Vergo.
Hiroshi Hasegawa
Reiko.A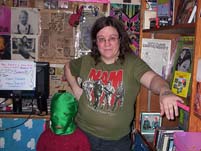 Angela Sawyer
After finishing a philosophy degree specialising in Husserlian phenomenology in the mid-1990s, writer and mysuician Angela Sawyer felt fully prepared to start astonishing audiences around the Boston area using her mouth, some broken electronics, toys & noisemakers. Impromptu squealing & gargling has become her specialty, and she's released a steady trickle of small-run lps, cds, cdrs & cassettes over the years. Changing the names of her projects to suit her every whim, the current active roster includes Preggy Peggy & the Lazy Babymakers, Duck That, & Christmas Morning. Her fantastic recent cassette only release "A Short Visit To The City That Bleeds" is full of weird up-close intimate wordage and environmental activity recorded 'in and around a rental car parked on leafy 34th Street in Baltimore, MD, Autumn 2012.' Sawyer runs the one & only Weirdo Records from a tiny storefront in Massachusetts.
Angela Sawyer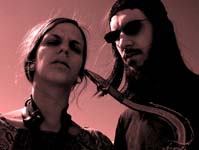 Jooklo Duo
Born 1984 in Italy, Virginia Genta is self-taught musician who plays saxophone (tenor, soprano, baritone, alto), flutes, clarinet, plus percussion and keyboards. Since 2003 she's been working with drummer David Vanzan in projects such as Jooklo Duo, Neokarma Jooklo Trio, Golden Jooklo Age, and the Jooklo Finnish Quartet. During the past six years of relentless activity the duo has toured the USA and Europe, performing over five-hundred concerts and collaborating with the likes of with Sonic Youth, Makoto Kawabata, Sabu Toyozumi, Chris Corsano, Paul Flaherty, Daniel Carter, Bill Nace and many others. 'The air needed clearing - a job for Jooklo Duo. Virginia Genta is a wee lass who handles her sax like Zeus does lightning. Her partner David Vanzan is a lanky basher of things, unleashing flowing rolls and bursts with more of a rock provenance than you normally get with fire music. They fully inhabit the '60s free-jazz aesthetic by blasting it into the present. This group's energy is wild as hell but not chaotic; there's a distinct order at work within their improvising.' Mike Wolf/The Village Voice.
Jooklo Duo
Dan Fröberg & Joachim Nordwall
The worlds of Dan Fröberg and Joachim Nordwall have run loosely parallel over the past few years, at points almost intersecting in projects such as Fröberg's release on Nordwall's iDEAL label, and a split LP recorded at Stockholm's revered antiquarian bookshop Rönnells. Two quite different energies but with many shared interests and inspirations. But now…for the first time ever, their worlds collide fully at Colour Out Of Space.
Artist and composer Dan Fröberg is a true original, freely travelling between music, visual art, performance, video and literature. His remarkable, vibrant compositions are intersections of shapes, environments, times and places, each connecting to the ever-growing labyrinth of clues. secrets and visions that are Fröberg´s very own. Fröberg prefers to brand his acoustic works folk music.
Joachim Nordwall became involved in the experimental music scene whilst still in his teens and living in a small remote village in the south-east of Sweden. He formed first 'Alvars Orkester' with his friend Jan Svensson, releasing C60's of 'cold Swedish sea mist electronics', later founding Skull Defekts, the long running, ritualist, atonal avant-rock outfit. In his solo work he is a frequent collaborator with Mika Vainio, Mats Gustafsson, Mark Wastell and Leif Elggren. Nordwall is deeply interested in the power of sound, rhythm and their psychoactive effects - how sound can create certain states of mind. He is the founder of 'iDEAL' – a music imprint that curates festivals, performance and sound art exhibitions
Soundcloud - Dan Froberg
Joachim Nordwall / Touch
Gen Ken Montgomery
Montgomery is a New York-based visual and sound artist, an all round, champion and promotor of DIY sound art, whose involvement in the cassette-culture and mail-art movements of the late Seventies led to the creation of Generator – NY's first and arguably still the most important sound art gallery. As an artist Montgomery has a total engagement with the physical processes of sound and was a long time associate of German Electronica hero Conrad Schnitzler. As The Minister of Lamination he is the world's foremost practitioner of Sonic Lamination Art.
Gen Ken Montgomery
The Sons of God (Leif Elggren and Kent Tankred)
Active since the late 1970s, Elggren is one of the most important and continually confounding artists working in Sweden today. A writer, visual artist, book publisher, stage performer and composer, his work centres on dreams, subtle absurdities and social hierarchies turned upside-down. His sound pieces often created as soundtracks to installations or performances, have been released on labels such as Ash International, Touch, Radium and his own Firework Edition. Together with Carl Michael von Hausswolff, he is the founder of the Kingdoms of Elgaland-Vargaland where he enjoys the title of king. Kent Tankred studied painting in the early 1970s before attending the Institute for Electro-Acoustic Music in Stockholm. Tankred is interested in musical encounters and fusions with other art forms. Tankred and Elggren formed Sons of God (Guds Söner) in 1988.
Sons of God
We are all Children of God
Tom White
Born in 1986, Tom White is an artist currently based in London. His work moves between multi-media platforms including sound, experimental film and video, installation and live performance. Recent projects include commissions from LUX Moving image, My Dance The Skull, MK Gallery and Public Address – a site specific, multi-speaker sound installation of children's recordings made through workshops on the Southampton Way Estate in Peckham, London.
Tom White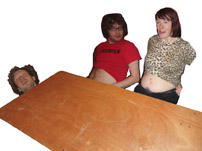 Usurper & Dora Doll
'We have a punchline at the end of each set which equals one joke every three weeks: "I'm not laughing at him. I'm laughing with him. No, i'm not laughing at him. I'm laughing with him. Combined comprehensive educations of Fife and Edinburgh failed to curb luddite tendencies or discourage low forms of wit: Ali Robertson got remedial as Giant Tank head-honker. Malcy Duff draw. Meanwhile: A lack of understanding proved that if you leave something broken long enough it'll start working again and Usurper got born.' Usurper. 'By favouring the sounds other musicians might ignore or avoid – placing a beer bottle on a table, the clicking of a pedal's pot-switch, the resonant clang of a dropped coin – Usurper, paradoxically, go right through "lo-fi" and come out the other side. It's this transformative process of enticed attentiveness that produces a genuinely collaborative environment in which focus on the incremental allows us to appreciate the delicacy and subtlety of sound-worlds we normally ignore or take for granted'' Foxy Digitalis.
Dora Doll Former sister of hugely influential Blackburn based Prick Decay and now one half of Edinburgh duo Hockyfrilla, Doll has been causing havoc onstage and off since the early nineties.
Duff/Robertson
Dora Doll
Fordell Research Unit
Edinburgh based noise auteur Fraser Burnett joins forces with Muscletusk's Grant Smith for a relentless, all consuming exercise in metal machine minimalism.
Fordell Soundcloud
Spoils and Relics with Karen Constance
Static aural delights from Myles, Piercy and Scarr manipulating and collaging found sounds into beautiful concrete confusion. 'a mutating web of feedback, choral echoes and lo-fi loops of various squeaking, rattling found sounds, settling gently into certain texture combinations before teasing the stasis through jolts of pitch bend or slow fades into somewhere else. It's a real nightmare collage: one minute it's a blast of screaming electronics, like someone tampering with the cockpit controls, and the next it's tornado of factory noise and alien sex. Musique concrete for the mind's darker, more paranoid recesses, with a gorgeously sparse latter half of noise squeals fed through some sort of astronaut intercom.' - Jack Chuter, ATTN magazine
Karen Constance - visual and sound artist, AKA Smack Music 7, creator of the finest, intuitive future/primitive outer dimensional tape hypnotics. 'Elements of world music and cultic ritual – gamelan style percussive sonorities, scrabbly hand-rhythms, smeared tape chants, blurred hypnotic vocalese – all channelled through a heady hands-on/DIY tapework style that comes over like Industrial devotional music or field recordings from a ritualistic sect based deep beneath the pavements of Brighton,' David Keenan / Volcanoc Tongue
Spoils Bandcamp
Karen Constance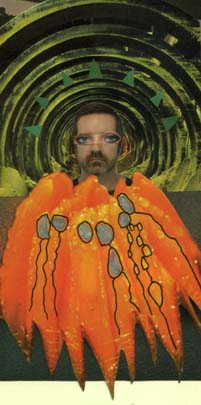 F.Ampism
Broadcasting gorgeous loops and FX manipulation, silk stringed chromatic excursions and occasional cutlery, now with stop motion movies too.
Ampism